Our 61st Ice Fishing Derby
and Winter Festival
February, 13 & 14 2021
THE DERBY WILL BE HEADQUARTERED AT MUSKY TALES BOAT RAMP OFF OF ROUTE 173!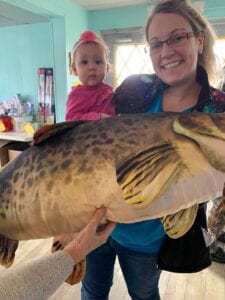 Looks like we'll have plenty of ice this year for our 61st derby. NICC has had many challenges with weather in the past 60 years. No matter what the weather NICC dedicated volunteer members worked to keep the derby going strong both days.
This year will be a little different because of COVID-19. There will be no gathering of people during the Derby. The fishermen will only come to shore to register and enter their fish. The two fish judges will be in a 12 x 12 tent with only one fishermen allowed in the tent at a time to enter their fish. There will be another 12 x 12 tent set up next to the fish judges and will be manned by one or two NICC members at a time who are there to answer any questions that the fisherman or public may have. Again, only one person allowed in the tent at a time.
VOLUNTEERS NEEDED
We have a couple openings on both Saturday and Sunday. If you can give NICC a couple hours of your time, contact our president Leonard Dane. Remember, this is a good time to use some of your yearly 5 hours of volunteer time.

[Download PDF Copy of Poster]
MAJOR SPONSORS THIS YEAR
Antioch Auto Parts
Kloss Distributors of Miller Coors
Holly Kim – Lake County Treasurer
Heartland Bank & Trust
Berkshire Hathaway Home Services
Lakes Realty Group
Body Craft, Pickard China, Leonard & Amy Dane
Wake to Wood, Thelen Materials, Triangle Sports & Marine
State Bank of the Lakes, A to Z Rental, Antioch Fine Wine & Liquors
Robinson Wholesale, Inc., Leo J. Fox Trucking & Excavating, Inc,. 95 WIIL Rock
Plaza Laundromat, Antioch Chamber of Commerce, Antioch Cyclery
The Mexican Paradise Café, Wet & Wild Outfitters, Piggly Wiggly
Express Care