62nd Annual Ice Fishing Derby Winners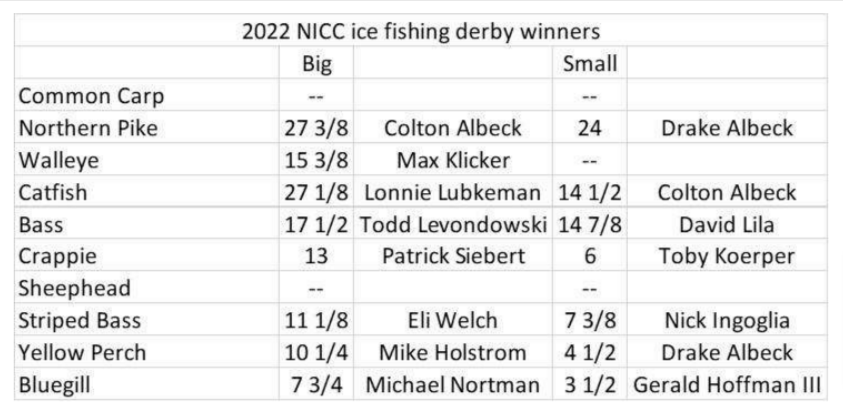 The 62nd annual NICC Ice Fishing Derby was held February 12-13, 2022, on the Chain O Lakes. This year's headquarters was in a tent at Turtle Beach. Weather conditions were perfect this year, although the fish didn't seem to agree as catching seemed slow. There were 147 fishers registered this year, which is up by 50 from last year. We also had a few bucket raffles and a 50/50 raffle. It was great to see so many of the regulars and many new people attending the derby. I want to extend a huge thank you to all those that worked to ensure that the derby went off without a hitch and to all of our great sponsors. Without the volunteers and sponsorships, we could not continue this event for as long as we have
Thank you to our Derby volunteers!
Organizing and hosting an event like this would be impossible without our dedicated members and Derby volunteers. Thank you to this year's Derby crew:
Len Dane, Laura Golonka, Ken Golonka, Mike Venet, Tony Vos, John Mathatas, Holly Kim, Bill Burns, Jordan Marcelain, Mark Fini, Patty Bellack, Doug Zimmerman, Jim Waldow, Phil Schultz, Thomas Geisler, Ron Lobodzinski, Paul Yucus, Jessie and Bill Szmergalski, Andy Szmergalski and Katie Sarver.
Mark your calendars for February 11-12, 2023 and
plan to attend/volunteer for the 63rd annual derby.